2014 North American Teams
For the 17th edition of NATT's Teams event, we will be enjoying our second year at our new venue! 2013 was a great success and we expect 2014 to be no different. Traditionally the largest table tennis competition in North America, this three-day tournament features a team component in an otherwise individual-focused sport in the US. The first day will give you an opportunity to play higher and lower ranked teams based on your original seeding and will eventually determine your division placement for the rest of the event. After the first day, teams will spend the remainder of the tournament playing in a large round robin and face equally competitive teams that also placed in the same division. Endurance is a key factor to being successful in this tournament as many players will average 20-25 matches over the three days. If you need a break, we recommend checking out matches from the first division. These players are often local and international professional players and the competition is certainly fierce!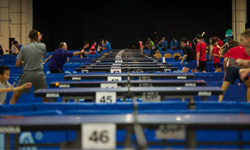 Equipment
All USATT and ITTF rules and regulations will be followed. JOOLA tables & net sets will be used with JOOLA white Super P Poly 40+ balls. No competitor shall wear white shirts or shorts/skirts during play.
Entry Deadline
Entries must be postmarked by Friday, October 31, 2014. Any late entries will be accepted on a space available basis with a $100 late fee. If an entry is submitted late, please call to confirm that it was received and accepted. There is a $75 penalty for returned checks. NO REFUNDS after October 31, 2014.